Enjoy a unique game experience thanks to the 40mm diameter speakers which guarantee excellent sound quality. Discover new tones of sound and let the adrenaline of the competition surround you, thanks to their optimum isolation.
With the Kendo headphones you'll be able to anticipate all your enemy's movements and immerse yourself in your game strategy with nothing to distract you, thanks to their surround sound
Ergonomic, ultra-lightweight design
The demand for comfort has resulted in this light and ergonomic design, which, thanks to its pads and quilted headband, adapts itself smoothly and naturally to any shape, avoiding discomfort even during prolonged use.
In addition, Kendo is made of resistant yet at the same time lightweight materials that guarantee a high performance during long gaming sessions, so that you hardly notice you're wearing them, meaning the only thing on your mind is winning.
Designed to be made yours
The small details are those that make a difference, and this is why Kendo is focussed on taking care of each finish so that it can easily adapt itself to the needs of each player. For this reason, a flexible and multidirectional microphone is incorporated, which adjusts to your desired position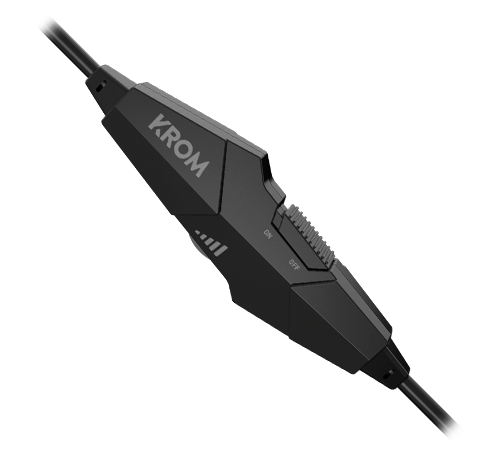 For better synergy with your movements during the game, it also features a comfortable in-line controller, with which you'll be able to adjust the volume without losing sight of your tactics.
You can use Krom Kendo on various platforms such as PC, PS4 and Xbox One.
*For Xbox One, an audio adapter is necessary. Not included